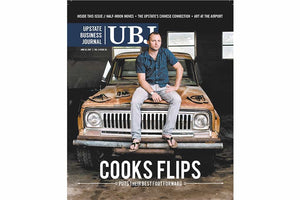 Cooks Flips puts their best foot forward.
John Walker has done everything from making kayaking videos to running a barbecue business, and now he's finding his stride as a "fobbler," or a flip-flop cobbler.
Walker, who earned a degree in environmental policy from Sewanee: The University of the South, was growing tired of raising hogs and cooking barbecue in Travelers Rest when he starting contemplating ways to reuse all of the feedbags on the family farm. "I wanted to recycle them, and I made a pair of shoes, and it all started there," he said.
About four years later, Cooks Flips has been a hit at farmers markets, where Walker sold more than 1,000 pairs of custom-fitted flip-flops ($80) using recycled materials, and he's doing brisk sales on his website (cooksflips.com, $40 each). Walker is also preparing to move to León, Mexico, where he plans to find a factory to create more versions of his footwear.
The journey has been full of ups and downs, but "I don't know what else to do now," he said. "I feel like I have a degree in shoe manufacturing, and it's finally starting to pay off."
After making your first pair of flip-flops, what prompted you to pursue this as a business?
I was hand-making them in the barn with a recycled tire bottom, a live-harvested cork upper, and feedbag straps. The plastic got comfortable and soft, and didn't absorb water. They were really nice, and when I went to the farmers market to custom-fit this shoe on people, it was popular. I'm not doing markets right now, but I'd love to have a store.
Did you have to expand your manufacturing to keep up with demand?
It was tough because it cost so much to make the shoe that it was hard to prove to investors that I could sell them. You can't really manufacture shoes in America, because it requires a lot of expensive machinery. So to prove to investors that I can sell them, I had to have some made in China. That wasn't my initial business plan, which is why I'm going to start bringing this shoe out of Mexico.
How are sales going for the shoe you had made in China?
It's doing very well. You can order them on our website or get them at Sunrift Adventures. I feel good about this product — it's a great shoe and very durable. It has injected-molded foam that gives the shoe a nice rocker. It also has the longer toe thong, which moves the fulcrum further back on your foot. It reduces the flop, so your toes don't have to pinch the front of the shoe to hold it, and it feels so much better.
What was the transition like, going from making barbecue to making shoes?
A partner and I had started White Oak Barbecue, and we were selling it out of the Barker Bar, a dog-friendly bar in Travelers Rest. It was going well, but my partner and I were both ready to do something different. It was a really natural transition to making these. Working with all of these materials, rolling it out, it's kind of like getting a bunch of barbecue and seasoning it. I kept the same shop in the barn.
How did you learn to make shoes?
I really like designing, but it did take me a long time to get it worked out. I made some horrible, ugly ones at first. I took shoes apart, came up with ways to measure them. I had to experiment with what felt better. I looked at what everyone else was doing and tweaked it. It was two years before I sold a pair. I came up with patented stitching, like a lightning bolt, which is very strong.
What were the biggest challenges in having your design manufactured in China?
I went on Alibaba (a Chinese e-commerce site) and said I was looking to manufacture shoes. A bunch said they would do it, so I sent 15 samples to China and only got four products back that I thought were decent. I just got too big for local companies to work with me. I needed 1,000 pounds of cork, for example, and was using all of these different businesses — it became a nightmare.
Why the switch to Mexico?
León, Mexico, is the shoe capital of the world. I can order 100 or 200 pairs of one style, whereas in China I have to order 800 pairs at a time because of their minimum order quantity. So I want to get set up with a ranch in Mexico where I can recycle all of their plastic and produce leather, and cut down on synthetics made with petroleum.
How much do environmental concerns inform your business plans?
My big thing is trying to motivate people to wear things that are sustainably produced, but look cool. I find it to be a huge, growing market that is covered in a giant lie. Most of it is a big lie. But I have found that leather, if produced properly, is one of the most sustainable materials we can use, if made on a water-conscious farm. So I'm looking to move into leather in Mexico, as well as salvaged ocean plastic.
What are the next steps for you and for Cooks Flips?
I'm moving into the barn, taking my shoes to a distribution company so all of my shipping can go out, and going down to Mexico this summer to find a factory. I'm going to León so I can undercut the competition by selling flip-flops that look and feel better for less.
---