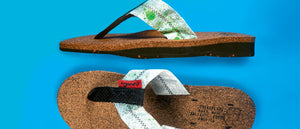 Electric Slides
Anyone who cooks can tell you the ideal kitchen produces no waste.This is a theory that presents itself in the form of footwear —100-percent recycled, custom fit, durable, and handmade in the USA— Marietta, South Carolina, no less.
It all began with a barbecue business and Marietta local John Walker. His idea for footwear sprang from curiosity and frustration with what to do with feedbags for the hogs.That curiosity coalesced around a couple of different questions: What could Walker make that would tap into his two life passions of fishing and surfing? And was there a way to make something that would also showcase Walker's lifelong motivation to "make a global difference and inspire others" to do the same?
Three years—coupled with plenty of sweat and ingenuity in a barn—have yielded a truly unique take on the flip flop, that ubiquitous summer sandal. Each pair is handmade from recycled, repurposed, or sustainable materials. Polypropylene sacks—the feedbags that frustrated Walker to begin with—are washed, cut, and sewn into straps, while cork and recycled tires form the cushy footbed.
At age 29,Walker sees these flip flops as more than casual footwear.They are a "tool to live the lifestyle" he supports— and it shows.Walker has even sold the Cooks he was wearing, walking out of a bar in his bare feet straight back to his barn to make more. See, standing for something is easy when you're standing on something good for the world.
---